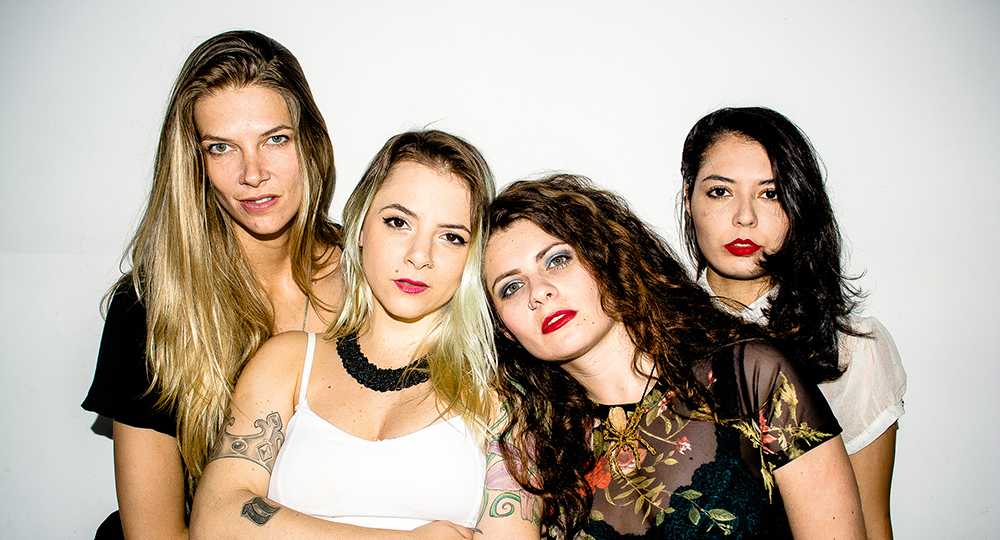 20 set

The Mönic lança single criado a partir de projeto do Spotify

Convidada para participar do "Escuta as Minas" do Spotify — projeto que seleciona musicistas para gravar em uma casa-estúdio feita por e para mulheres — a The Mönic lança hoje (20) seu novo single, "Frágil". A faixa foi criada especialmente para o projeto, produzida por Mônica Agena e, nas palavras da guitarrista e vocalista Dani Buarque, "representa algo bem diferente do que já fizemos".

Convite feito, em duas semanas a banda, formada por Dani, Alê Labelle (guitarra e vocal), Joan Bedin (baixo e vocal) e Daniely Simões (bateria), selecionou os riffs, criou toda a harmonia e gravou a faixa. Finalizado o instrumental, era necessário, então, escrever a letra. A inspiração surgiu quando a banda se deparou com críticas na internet que contestavam as integrantes, querendo policiar seus comportamentos e posicionamentos. A resposta às provocações, que surgiram nas redes sociais, veio em forma de versos poderosos. "A música fala sobre privilegiados que não reconhecem o que possuem. As pessoas querem que a mulherada fale, mas temos que falar do jeito que eles preferem", explica Dani.

Com influências de Queens Of The Stone Age e Nirvana, o novo som traz uma pegada característica de vertentes do garage rock e do grunge — sempre com o ativismo sociopolítico que acompanha a The Mönic. A participação de Mônica Agena também foi essencial para o resultado final, contribuindo com ideias nos arranjos e ajudando o quarteto, através de seus métodos, a atingir a sonoridade desejada. "A assinatura dela na música é algo muito forte e significativo", completa.

Apesar de ter sido gravada via o projeto idealizado pelo Spotify, a música está disponível em todos os aplicativos de música num lançamento da gravadora Deck.